So my Christmas gift from the ever wonderful

lady_zip
arrived yesterday, just in time for New Years.
Behold! I am now the dorky posessor of...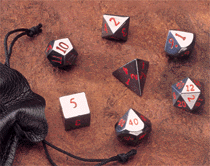 Le Woot! Pure Hematite.
As this order was sent from RPGShop.com, they included an item of "Mystery Swag" with it. In this case, it was a CD of paper miniatures!
It's a physical CD of
this product bundle.
Simply print, cut and stand up to have easy figs for play. For an example of what they look like, a
free sample is available here.
Not the most useful as I'm not playing an offline game right now, but still pretty nifty!